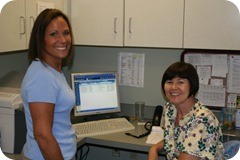 Here are a few guidelines to help you prepare for your next visit.
Insurance Information
Although the Crystal Arthritis Center accepts most major insurances, it is important to familiarize yourself with your insurance coverage. Please check with your insurance company prior to your visit to see if a referral is required. You will need to bring your insurance card with you to your visit.
Medical History
Please bring with you or have your doctor forward the results of any recent X-rays, laboratory results or other diagnostic tests related to your arthritis.
In addition, please bring a list of your medications including the name, dose and reason you are taking the medication.
Forms
Fill out any forms that are sent to you prior to your visit and bring them with you. You may also download the new patient form by clicking on the new patient form.
New Patient Appointment
If you are a new patient, please arrive fifteen minutes before your appointment time so that we can obtain the information necessary for your visit.